I've decided to join in the linky party over @
Dandelion W
ishes
she has each week. It's a happy list party!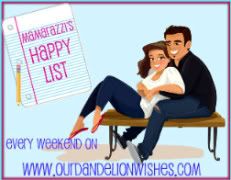 I'm very happy with our new home that we just bought this past October! Finally after 15 years together, a place of our own!
I'm also VERY happy that the snow is FINALLY melting!
3. I'm happy about our new van! Sooo much more room in this one compared to the other one!
4. I'm happy that our house is right across the street to a totally awesome, fenced in park! I can't wait for the weather to get a little better & I will be able to send the kids on over & I can sit on the porch & watch! That's how close we are!